Nabys is pleased to present the new NAB 10; a project created by the Vismara design team with the collaboration of the architect Massimo Sabatini and the designer Antonio Cataldi as regards the internal lines and built in a new construction site created specifically to develop the new "wood and ecological composite" technology where new "solid" design systems with control cutting and "Yacht System" assembly.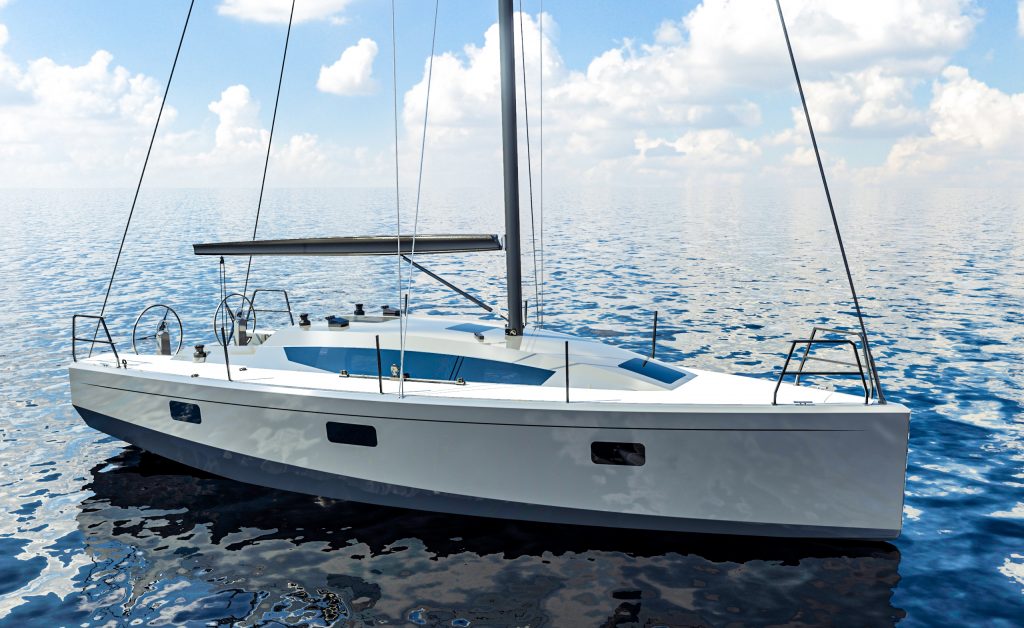 Nab 10 Fast Cruiser is designed for fast cruising for a couple or a family. To sail also in the Mediterranean breezes. The water lines and design features make it pleasant to steer even when the engine is used with boats of the same category. In short: you sail with the sound and scent of the sea instead of having the noise of the engine and the smell of exhaust gases on board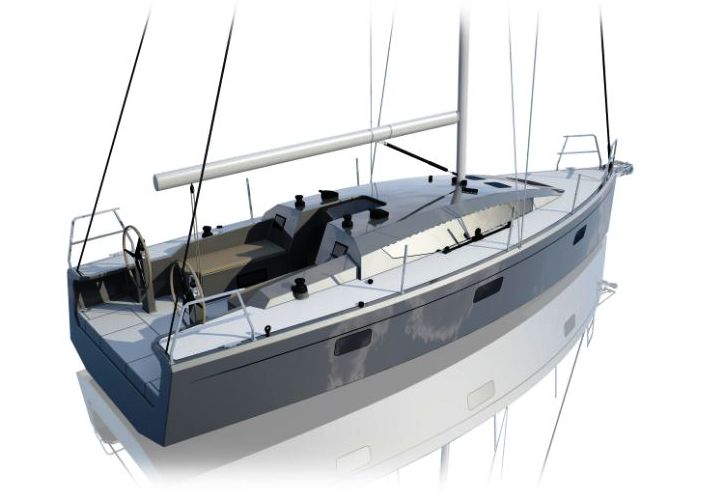 10 meters long, the boat is made entirely of wood with carbon reinforcements to make it more robust.Under the hull there is a fixed keel with a draft of 1.85 m, suitable for navigation in places with little draft but thanks to the particular geometry it guarantees high stability.
The mast, as well as the boom, is in aluminum resting on the deck. All the maneuvers are carried back to the stern on the four winches installed in front of the double wheelhouse.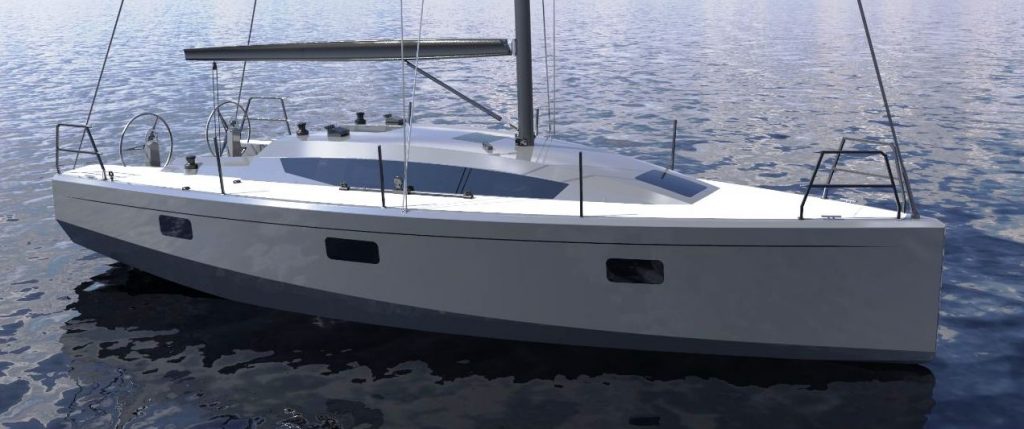 Going down inside you find yourself in front of a completely new subdivision of the spaces: starting from the stern, behind the entrance staircase there are two identical cabins with double bed and own wardrobe. Next we find the bathroom on the right with a large separate shower in front of it. Immediately after there is the kitchen, tilting gas burners, oven, table top and fridge on the right, on the opposite side the sink. A perfectly symmetrical division that creates a large "loft" enhanced by the absence of the tree resting on a ceiling carbon beam. In the extreme bow there is the dinette: two large sofas resting along the sides to form an inverted V with a large dining table.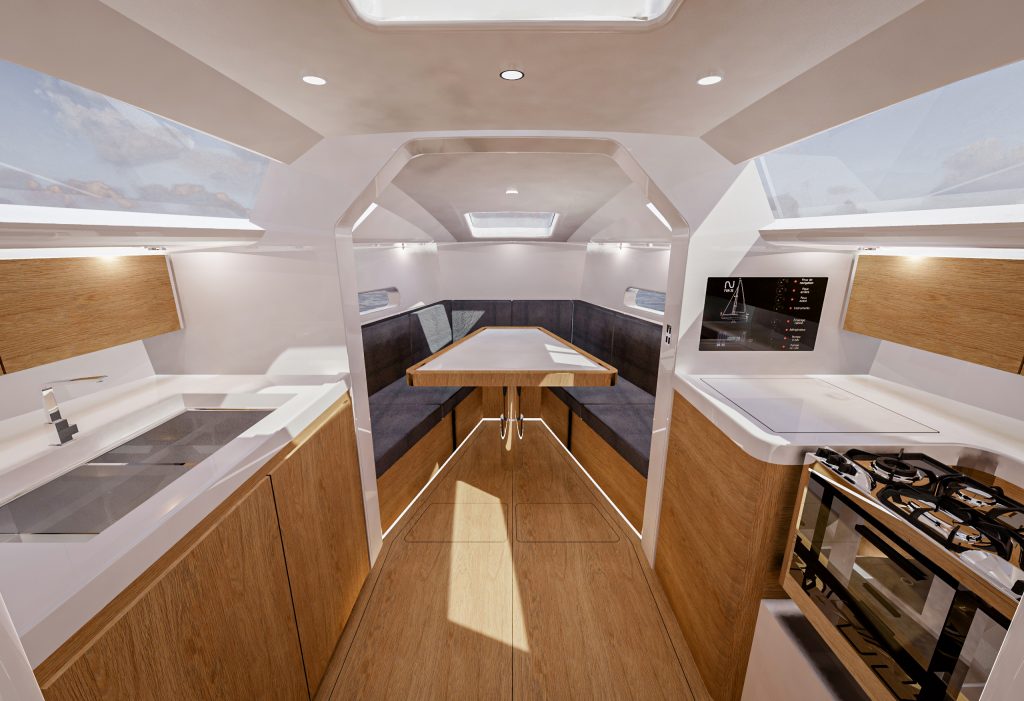 The engine is positioned under the entrance staircase.
All the interiors are painted white and the furniture covered in wood, this makes the environment warm and welcoming; very bright and airy thanks to the hatches on the deck and the windows along the deckhouse and on the hull that allow you to look outside even while sitting comfortably on the sofa.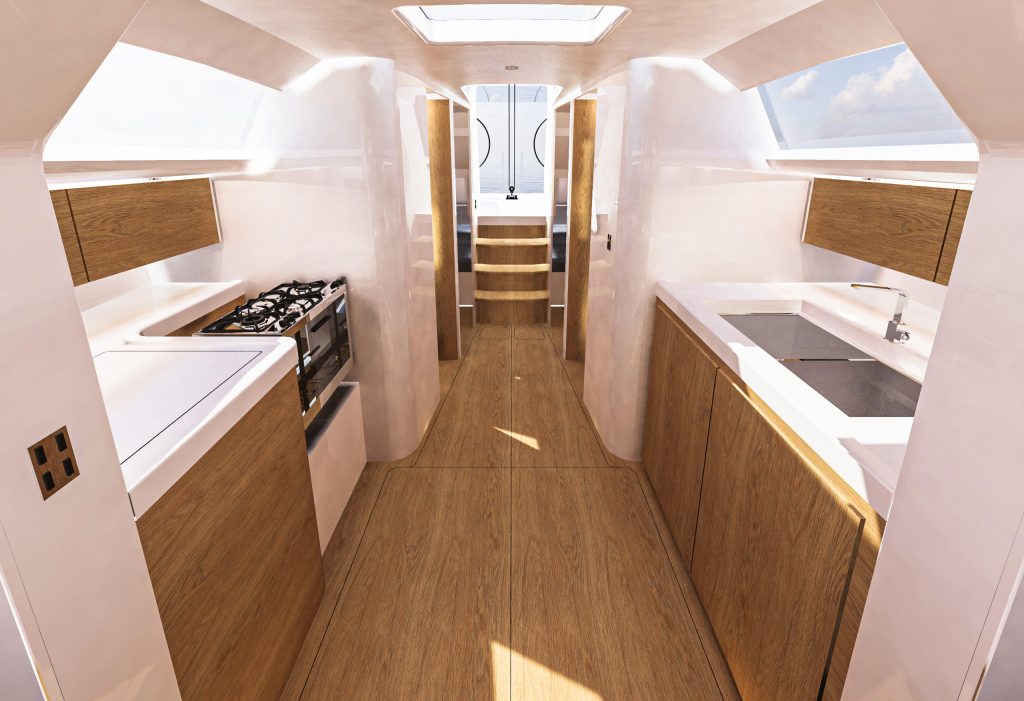 From an ecological and recycling point of view, the problem of the end of useful life cycle of plastic products is one of the attention points of the nautical sector (in addition to the macro problem of all "plastic" waste). What to do with thousands of fiberglass shells once they can no longer be used as boats?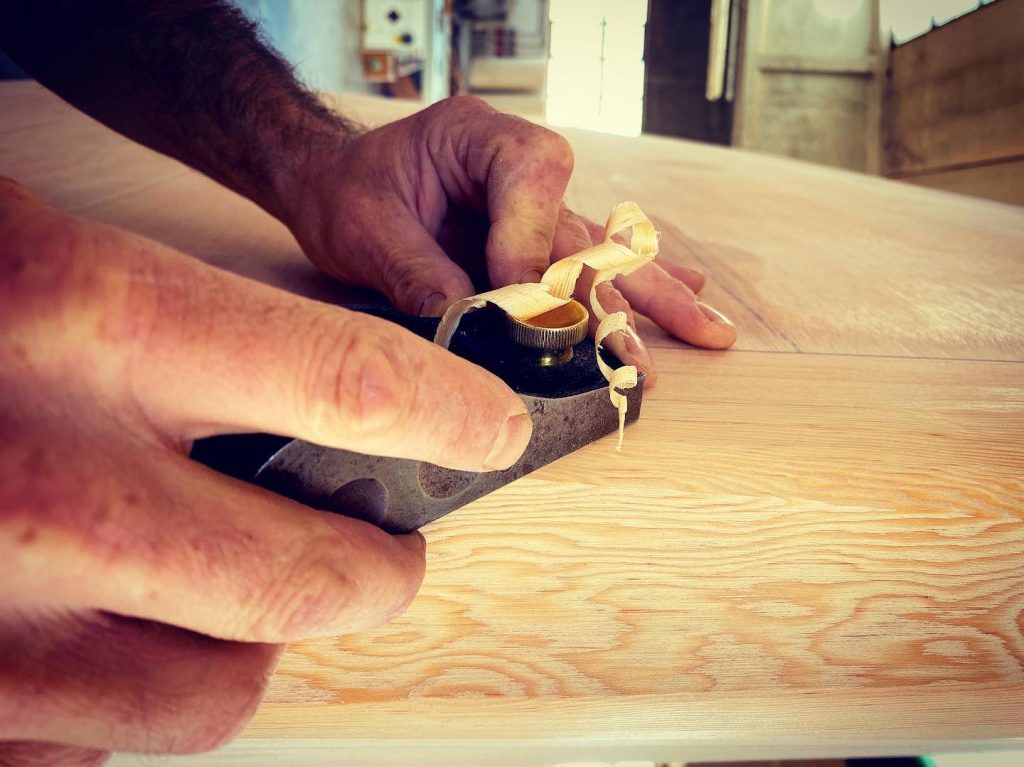 Nabys builds boats using Canadian Red Cedar or Okume' plywood covered with linen fiber which are among the woods with the lowest specific weight. Stable in place, tender and excellent to work with. It has a medium-high resistance among the various essences, especially to bending, and is among the best for its ability to resist putrescence. Not suitable for holding nails and screws, but great for gluing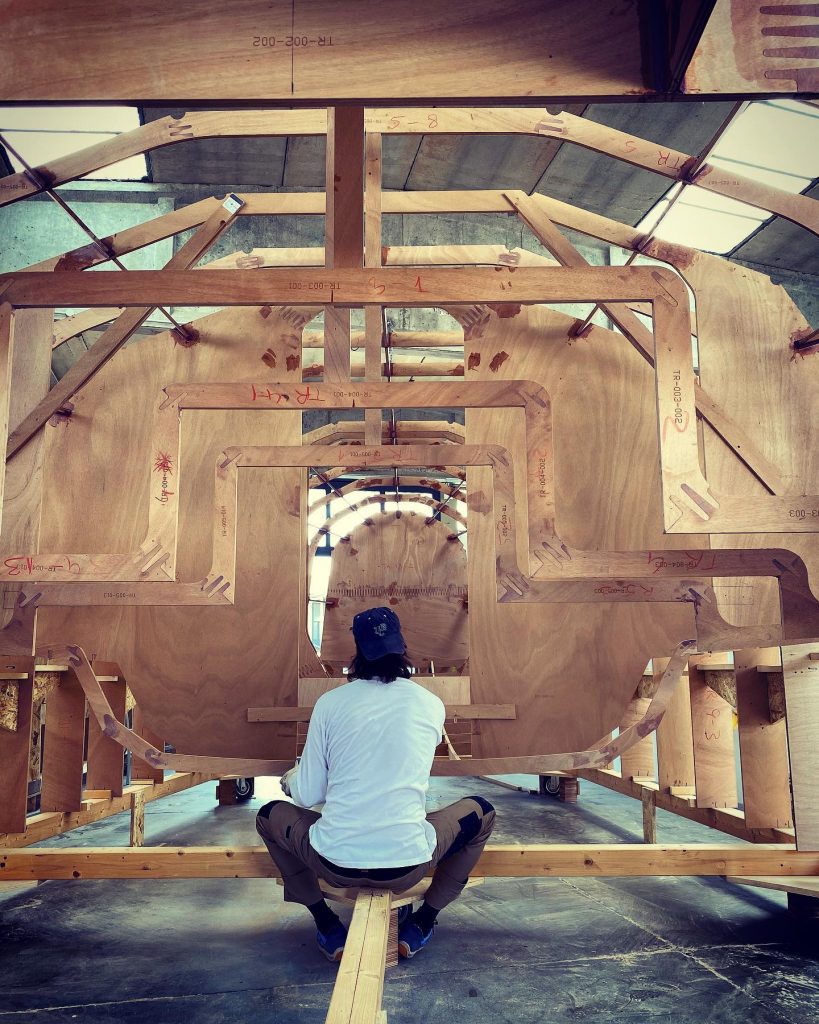 More infos at:
info@m2omarine.it